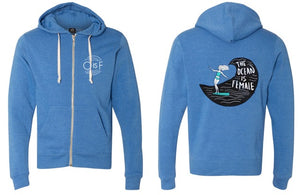 The Ocean is Frigid!
Women - Guaranteed to become your go-to hoodie...it is beyond cozy!  A cool royal blue tri-blend full-zip sweatshirt, with a white OisF logo on the front and the aqua Surfer Girl logo on the back.  Made of soft 7.5-oz, 55/39/6 cotton/polyester/rayon blend.  
CUSTOMER REVIEWS
From the moment I purchased the women's zip-up sweatshirt, I haven't taken it off! The color blue reminds me of the ocean in the islands and the texture is beyond soft. Great quality purchase overall!!
Alexis 
Not only do I love everything that The OisF stands for, but I love all of the OisF gear that I've purchased for myself and my daughters over the last year! Such great quality and such cute designs - the sweatshirts are our go-to for cozy rainy days and breezy beach days!   And, more importantly, having been abused as a child myself, wearing the OisF logo and supporting The OisF Foundation means something much more than fashion to me - it gives me strength and brings me hope. ❤️
Kristin 
OMG – the women's zip up hoodie is soooo cozy & comfortable, I literally live in it. Great purchase!
Megan