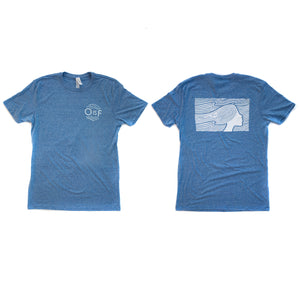 The Ocean is Fetching!
Men - Royal blue, comfortable, soft t-shirt with a tri-blend, heathered look.  Features a crewneck collar and set-in sleeves. Made from a 4.1-oz, 50/38/12 polyester/cotton/rayon blend.  Color of shirt is royal blue and logo is white.
CUSTOM REVIEW

My sons were fortunate enough to meet the founder of The Ocean is Female, and after learning about the strong work this organization is doing for survivors of abuse, they were thrilled to learn that we were able to purchase men and boy's gear. We love the design of our shirts and take pride in knowing our purchases are helping to do good!
Robert & Chris's Dad - Ages 12 & 9