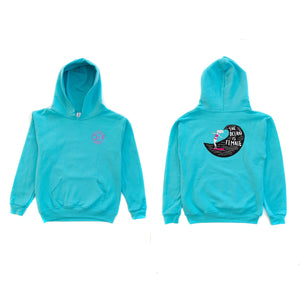 The Ocean is Fierce!
Youth/Junior - Cozy hoodie featuring a double-ply hood and front pouch pocket. Runs true to size. Color is scuba blue with hot pink surfer logo. Stretchy rib-knit cuffs and waistband ensure all day comfort. Made with a heavyweight 8-oz 50/50 cotton/poly blend.
Small (6/6X) (runs true to size)
Medium (7/8) (runs true to size)
Large (10/12) (runs true to size)
X-Large (14/16) (runs true to size)
CUSTOMER REVIEWS
I love the color of this hoodie – it is so vibrant and reminds me of the tropics!  My daughter wears this hoodie all the time, it is her go-to sweatshirt.  She is obsessed with the idea of being a "surfer girl" now and wants me to put her in surfing lessons this summer.
Gabrielle's mom – Age 8 
I bought this hoodie for my 13-year old niece for Christmas at Asbury Park Bazaar.  The quality was great - it just looked too cozy to pass up.  I love the message behind The OisF and was happy to share the positive vibes with my niece.  Many of her friends have since bought the same sweatshirt!
Laura